About Ranikhet
Ranikhet Holiday Packages
Ranikhet in Uttarakhand is a popular hill station and a British-era cantonment town in Almora district. Silky meadows, distant mountain views of Nanda Devi, and clear skies accentuate Ranikhet tourism .
Popular among honeymooners and families alike, the name Ranikhet literally translates from Hindi as 'Queen's Meadow.' The majestic and scenic views of the lush green forests, pine trees, and the mountains adds to the beauty of this heavenly place in the midst of hills and valleys. With our Ranikhet tour packages, get a chance to not only experience the breathtaking view of some of the most gracious wonders of nature, but also learn about the religious and cultural history of this place. Here's a detailed Ranikhet travel guide to help travelers plan and pick the best possible Ranikhet tour package .
What Brings Travelers to Ranikhet?
The picturesque town is extended across two ridges: the Ranikhet ridge lies at an elevation of 1,824 meters and the Chaubattia ridge at a height of 2,116 meters. Ranikhet tour can be thoroughly finished on a 2 night and 3-day itinerary. Spend a day sightseeing local attractions and enjoy a sumptuous dinner under the sky. Next day, rejuvenate with a warm cup of tea and breakfast along with morning sunshine. Indulge in outdoor and adventure thrills to culminate a trip to Ranikhet . A Ranikhet package for a honeymoon or a family vacation can be customized as per traveler's interests.
The nine-hole Ranikhet Golf Course, one of the highest golf courses of Asia, is located 5 kilometers from the main town square. Ashiyana Park – one of the popular places to visit in Ranikhet – is situated in the heart of town. The park is specially developed on jungle theme for children and those young at heart. The Headquarters of the Kumaon Regiment of the Indian Army is located at Mall Road in Ranikhet. The town is home to the Kumaon Regimental Centre Museum which displays a splendid collection of weapons, photos, memorabilia, and more.
Top Attractions to See in Ranikhet
Developed during the British rule, Ranikhet is a small town built around ancient temples in the Kumaon hills of Uttarakhand. This hill station is popular for its views of the Nanda Devi Peak (the second highest mountain in India), trekking routes, mountainous trails, apple orchards, and temples. Popular treks in Uttarakhand to explore on a tour to Ranikhet are: from Chaubatia Orchards to Holm Farm, from Chaubatia to Bhalu Dam, and from Meghdoot to Jhula Devi Temple.
Bhalu Dam, about 3 km from Ranikhet, is a famous picnic spot near an artificial lake. Binsar Mahadev Temple, nestled in cedar forests, lies roughly 15 km from Ranikhet. A major highlight of our Ranikhet holiday tour packages , Chaubatia Gardens, also known as Orchard Country, is about 10 km from Ranikhet is a great place to buy fresh seasonal fruits. The gardens cover an area of about 600 acres. Travelers can buy fresh jam and squash of local fruits such as apple, plum, apricot, etc. The eighth-century Jhula Devi Temple is dedicated to Goddess Durga and holds a special place in local folklore. The 12th-century Katarmal Sun Temple and Hairakhan Temple (dedicated to Lord Shiva), and Kali Temple are other must-visit temples in Ranikhet .
The undulating road from Almora to Ranikhet offers spectacular viewpoints of snow-capped Himalayan peaks in Uttarakhand. Ranikhet is dotted with holiday resorts with a scenic view of the beautiful landscape. We have designed our Ranikhet holiday packages for the adventure-junkies as well so that they can have a thrilling experience in the middle of the mountains. Travelers on a Ranikhet tour can enjoy trekking, rock climbing, mountaineering, and other adventure activities in Ranikhet.
Best Time to Visit Ranikhet
The best months to visit Ranikhet are between March and July. However, here is a complete breakdown of all the seasons to help you decide your travel plan accordingly.
Summer Season
The summer season in Ranikhet starts in the month of March and lasts till June. The temperature usually ranges between 10 degrees Celsius and 27 degrees Celsius during these months making it ideal to visit around and explore places. It is also the peak season at the destination as the climatic conditions are pleasant and it is also the blooming season there. Ranikhet is usually loaded with tourists during this time.
Winter Season
The winter season in Ranikhet starts in the month of September and lasts till February. The minimum temperature ranges around -3 degrees Celsius and does not rise above the minimum temperature being -3 degrees Celsius during these months. The winters can be a bit extreme here, and you can also witness snowfall. It is the best time to visit the destination if you want to experience the snowfall and explore the place during the pleasant winter climate.
Monsoon Season
The monsoon season in Ranikhet starts in the month of July and lasts till August. It is not a recommended time to visit the destination as the place receives heavy rainfall during these months and it becomes prone to landslides and roadblocks. You won't be able to visit many places due to the bad weather and road conditions. Even though the monsoon brings lush green surroundings and pleasant weather, it is best recommended to avoid travelling to Ranikhet during these months.
3 Ranikhet Tour Packages
Best Ranikhet Tour Packages
| Ranikhet Tour Packages | Duration | Price* | Inclusions | Details |
| --- | --- | --- | --- | --- |
| Nainital Ranikhet Tour Package | 3 Nights / 4 Days | ₹18500/- | Meal, Transfer, Sightseeing, Hotels | View Details |
| Nainital Ranikhet Jim Corbett Tour Package | 4 Nights / 5 Days | ₹22500/- | Meal, Transfer, Sightseeing, Hotels | View Details |
| Gems Of Uttarakhand | 7 Nights / 8 Days | ₹35000/- | Meal, Transfer, Sightseeing, Hotels | View Details |
3 tour packages
in Ranikhet
Nainital Ranikhet Tour Package 2 Nights Nainital | 1 Night Ranikhet
4 Days & 3 Nights
Starting From
18500
/-
Per Person on twin sharing
Hotel included in package: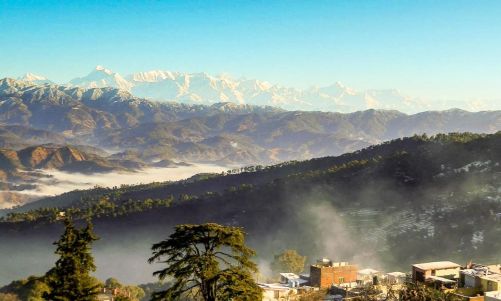 Nainital Ranikhet Jim Corbett Tour Package 2 Nights Nainital | 1 Night Ranikhet | 1 Night Corbett
5 Days & 4 Nights
Starting From
22500
/-
Per Person on twin sharing
Hotel included in package:
Gems Of Uttarakhand 01 Night Haridwar| 02 Nights Mussoorie| 01 Night Corbett, 1 Night Ranikhet | 2Nights Nainital
8 Days & 7 Nights
Starting From
35000
/-
Per Person on twin sharing
Hotel included in package: