About Puducherry
Pondicherry Holiday Packages
Pondicherry, officially known as Puducherry, is a charming coastal town in South India known for its French colonial heritage, beautiful beaches, and serene ambiance. It offers a range of holiday experiences, from exploring French architecture to enjoying coastal relaxation. Here are some popular types of Pondicherry holiday packages:
Cultural and Heritage Tour:

Duration: 3-5 days
Highlights: Explore the French Quarter (Ville Blanche), visit historic churches, stroll along the Promenade Beach, and experience French cuisine at local cafes.

Beach Retreat:

Duration: 2-4 days
Highlights: Relax on the pristine beaches of Pondicherry, such as Paradise Beach, Auroville Beach, and Serenity Beach. Enjoy water sports and beachfront accommodations.

Spiritual and Wellness Retreat:

Duration: 3-7 days
Highlights: Visit the Sri Aurobindo Ashram, Auroville, and Matrimandir for meditation and spiritual experiences. Enjoy yoga and wellness retreats offered in the area.

Adventure and Water Sports:

Duration: 2-4 days
Highlights: Engage in water sports like scuba diving, snorkeling, and kayaking in the Bay of Bengal. Explore the underwater world and coral reefs.

Nature and Wildlife Tour:

Duration: 3-5 days
Highlights: Visit Ousteri Lake, which is a haven for birdwatchers, and explore the nearby Gingee Fort and Thiruvannamalai. Experience nature and wildlife in the surrounding areas.

Honeymoon Package:

Duration: 4-7 days
Highlights: Enjoy a romantic getaway with beachfront accommodations, candlelight dinners, and leisurely walks along the beach.

Culinary Tour:

Duration: 3-4 days
Highlights: Savor French and South Indian cuisine at local restaurants and cafes. Explore the local markets and indulge in culinary delights.

Art and Handicrafts Tour:

Duration: 2-3 days
Highlights: Discover the art galleries and boutiques in Pondicherry, where you can buy traditional handicrafts and artwork.

Bicycle Tour:

Duration: 1-3 days
Highlights: Explore the town and its outskirts on a bicycle, discovering the picturesque landscapes and cultural heritage at your own pace.

Customized Pondicherry Tours:

Duration: Variable
Highlights: Tailor-made packages that can be customized to your specific interests, preferences, and duration.
Pondicherry offers a diverse range of experiences, making it an ideal destination for history enthusiasts, nature lovers, adventure seekers, and those seeking relaxation. When planning your trip, consider the best time to visit, which is typically between October and March when the weather is pleasant. Be sure to research and book through reputable tour operators to ensure a well-organized and enjoyable trip to Pondicherry.
10 Best Places to Explore in Pondicherry Tour Package
Pondicherry, or Puducherry, is a charming destination known for its French colonial influence, beautiful beaches, and tranquil ambiance. Here are 10 best places to explore in Pondicherry on a tour package:
Promenade Beach:

The Promenade Beach, also known as Rock Beach, is a picturesque spot for leisurely walks, jogging, and enjoying the scenic Bay of Bengal. It's perfect for a relaxing evening stroll.

Auroville:

Auroville is an experimental township founded on the principles of unity, peace, and spiritual harmony. Visit the Matrimandir, an iconic meditation center, and explore the international community within Auroville.

Sri Aurobindo Ashram:

This ashram is dedicated to the teachings of Sri Aurobindo and The Mother. It's a serene place for meditation and reflection. Don't forget to visit the samadhi (final resting place) of Sri Aurobindo and The Mother.

Paradise Beach:

Located on Chunnambar Island, Paradise Beach offers a tranquil escape. You'll need to take a short boat ride to reach the island and can relax on the pristine beach surrounded by lush greenery.

French Quarter (Ville Blanche):

Explore the charming French Quarter of Pondicherry, known for its well-preserved colonial architecture, colorful buildings, and vibrant streets. Promenade along Rue Suffren and Rue Dumas.

Arikamedu:

Arikamedu is an archaeological site that showcases the ancient trading connection between India and the Roman Empire. Discover remnants of the past at this historical site.

Pondicherry Museum:

The Pondicherry Museum houses a collection of artifacts that depict the rich history and culture of the region. It's a great place to learn about Pondicherry's heritage.

Gingee Fort:

Located a short drive from Pondicherry, Gingee Fort is a majestic hilltop fortress with a complex of three hilltops and historic structures. It's ideal for history and photography enthusiasts.

Botanical Gardens:

The Botanical Gardens in Pondicherry feature a diverse collection of exotic plants, a musical fountain, and a serene atmosphere for a leisurely stroll.

Basilica of the Sacred Heart of Jesus:

This stunning Gothic-style church is known for its beautiful stained glass windows and peaceful ambiance. It's a significant religious site in Pondicherry.
These are just a few of the many attractions that Pondicherry has to offer. Whether you're interested in history, spirituality, beaches, or simply relaxing in a tranquil environment, Pondicherry has something to offer every traveler. Don't forget to explore the local markets and savor the fusion of French and South Indian cuisine during your visit.
What is the Best Time to Visit Pondicherry?
The best time to visit Pondicherry is during the winter months, which extend from October to March. This period offers pleasant weather, making it ideal for sightseeing, outdoor activities, and enjoying the beaches. Here's a breakdown of the weather and highlights of each season in Pondicherry:
Winter (October to March):

Weather: Daytime temperatures during winter range from 15°C to 30°C (59°F to 86°F), and nights are cooler but still comfortable.
Highlights: This is the peak tourist season in Pondicherry due to the pleasant weather. You can explore the town, beaches, and outdoor attractions comfortably. It's an excellent time for water sports, yoga retreats, and cultural events.

Spring (February to March):

Weather: Spring is a transition period with gradually warming temperatures. It's an excellent time for those who prefer milder weather without the winter crowds.

Summer (April to June):

Weather: Summers in Pondicherry are hot and humid, with daytime temperatures often exceeding 35°C (95°F) or more. It can be uncomfortable for outdoor activities.
Highlights: While summer is the least favorable season due to the heat, it's an option for budget travelers, and you can still explore indoor attractions.

Monsoon (July to September):

Weather: Monsoon brings heavy rainfall and high humidity to Pondicherry. It's not the best time for outdoor activities, as heavy rain can disrupt plans.
Highlights: The lush greenery in and around Pondicherry during the monsoon can be visually appealing. However, travel plans can be affected by the rainfall.
To make the most of your visit to Pondicherry, it's generally recommended to plan your trip during the winter months (October to March) when the weather is comfortable, and the town is bustling with tourists and cultural events. Spring (February to March) is another good option for those who prefer less crowded conditions.
Be sure to check the local weather forecast and any specific events or festivals happening during your desired travel dates to plan your Pondicherry visit accordingly.
How to Reach Pondicherry?
Pondicherry, also known as Puducherry, is easily accessible by various modes of transportation. Here's how to reach Pondicherry:
By Air:
Chennai International Airport (MAA):

The nearest major airport to Pondicherry is Chennai International Airport, located approximately 135 kilometers (84 miles) away.
From Chennai, you can hire a taxi or take a bus to reach Pondicherry. The journey takes around 3-4 hours by road.
By Train:
Villupuram Railway Station (VRI):

Villupuram is the nearest railway station to Pondicherry, located about 38 kilometers (24 miles) away.
Several trains from major cities like Chennai, Delhi, and Kolkata connect to Villupuram. From there, you can take a taxi or a local bus to Pondicherry.
By Road:
Bus:

Pondicherry has a well-connected bus network with regular services to and from nearby cities. Buses from Chennai, Bangalore, and other major cities are available.
You can opt for state-run buses or private operators for your journey.

Self-Drive or Taxi:

If you prefer more flexibility and convenience, you can rent a car or hire a taxi to drive to Pondicherry from nearby cities like Chennai or Bangalore. The journey is comfortable and scenic.
By Bike:
Motorcycle:

For adventurous travelers, riding a motorcycle or scooter to Pondicherry can be an exciting option, especially if you are already in nearby cities like Chennai or Bangalore. Ensure you have the necessary permits and follow safety guidelines.
By Water:
Cruise:

Some cruise operators offer coastal cruises along the eastern coast of India, making stops at Pondicherry. Check for cruise itineraries that include Pondicherry if you prefer a unique mode of transport.
Note: Pondicherry has well-maintained roads, and the journey by road offers picturesque views of the East Coast Road. The choice of transportation depends on your location and preferences. Be sure to check the availability of tickets or rentals and the distance and travel time when planning your trip to Pondicherry.
1 Puducherry Tour Packages
Best Puducherry Tour Packages
| Puducherry Tour Packages | Duration | Price* | Inclusions | Details |
| --- | --- | --- | --- | --- |
| Pondicherry 2 Nights 3 days package | 2 Nights / 3 Days | ₹20000/- | Meal, Transfer, Flights, Sightseeing, Hotels | View Details |
1 tour packages
in Puducherry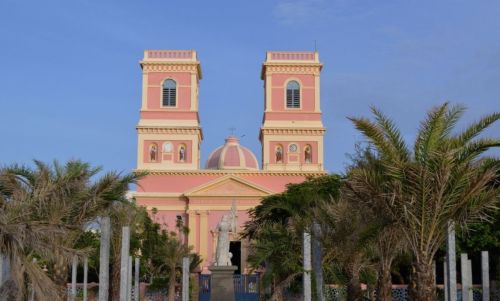 Pondicherry 2 Nights 3 days package 2 Night Pondicherry
3 Days & 2 Nights
Starting From
20000
/-
Per Person on twin sharing
Hotel included in package:

Meal

Transfer

Flights
Sightseeing

Hotels