About Ladakh
Ladakh Holiday Packages
Leh Ladakh tour packages have a unique charm that attracts all kinds of travellers. Whether you are a solo traveller or love to explore with a group of peers, we all have a list of must-visit places in our lifetime, and Ladakh is unquestionably one of them.
Nestled in the North-Indian territory of Jammu and Kashmir and surrounded by the towering Great Himalayas on one side and the rugged Karakoram range on the other, Ladakh stands out for its awe-inspiring landscape and unique culture. Despite its lack of modern infrastructure and luxury hotel facilities, and despite its reputation for harbouring some of the world's most treacherous roads, Ladakh tour packages consistently rank among the best-selling packages in India. If you're seeking a remarkable Ladakh trip, Ladakh trip packages provide the ideal gateway to explore this mesmerising region. With our specially curated Ladakh holiday packages, you can immerse yourself in the enchanting beauty and culture of this North Indian gem.
Ladakh, often likened to a Martian landscape, evokes a sense of wonder and adventure. With its towering mountains, ancient Tibetan monasteries, shimmering lakes, welcoming locals, and elusive wildlife, Ladakh consistently tops the bucket list of many adventure seekers, making Ladakh trip packages in high demand. And there's a good reason for it. Very few places offer the kind of charm that Ladakh does, mainly due to the region's unique geography in the heart of Jammu and Kashmir. The thrill of traversing high-altitude passes on a bike, the joy of gazing upon surreal lakes like Pangong, the breathtaking panoramic views from monasteries perched on a hill, and the delightful taste of local cuisine—all these experiences linger long after you return after relishing your Ladakh holiday package.
Ladakh is a destination that effortlessly appeals to nature lovers, adventurers, honeymooners, and families alike. So, why wait? Book the best Ladakh trip package and embark on a journey to savour everything that this incredible region has to offer, from monasteries to wildlife.


10 Best Tourist Places to Explore in a Leh Ladakh Tour Packages
An ideal tour package for Ladakh comprises a visit to Leh, Pangong Tso, and Nubra Valley. Tourists can also opt for offbeat holiday packages to Leh-Ladakh and explore the mountain desert's hidden destinations like the Turtuk Village, Chuchot, and Tsomoriri. Listed below are some of the most frequented tourist attractions which you must include in your Ladakh tour.
1. Nubra Valley
What's Special: Monasteries, Culture, Views
Nearby Attractions: Turtuk, Khardungla pass
Timings: 24 hours
Major Attractions: Panamik Village, Yarab Tso, Maitreya Buddha
Distance From City: 160 Km
Transportation Option: Bike/car rental, taxi, bus
Nubra Valley is one of the most enthralling places to visit in Ladakh region. The place used to serve as a trading route between Tibet and Turkistan via Karakoram Pass. There are various Buddhist monasteries here which are worth a visit. The picturesque scenery of the rugged mountains and steep valleys that one gets to view from here is just worthy to be captured in your cameras. It is among the best places to visit with Leh packages.
2. Magnetic Hill
What's Special: Strong magnetic force, beautiful views, peaceful surroundings
Nearby Attractions: Confluence point, Shanti Stupa, Leh Palace
Timings: 24 hours
Major Attractions: Pangong Tso lake, Khardung-la pass, Zanskar river confluence, Zanskar Valley, Nubra Valley, Spituk Gompa, Hemis National Park, and Hemis Monastery
Distance From City: 27 Km
Transportation Option: Bike/car rental, taxi
Magnetic Hill is located in Ladakh and is one of the top-rated tourist attractions. The place is blessed with natural settings with breathtaking views. The hill is blessed with magnetic powers and gives people strange experiences. The mesmerizing beauty attracts a lot of visitors across the country
3. Leh Palace
What's Special: Architecture, Culture
Nearby Attractions: Shanti Stupa, Thiksey Monastery, Hemis Monastery
Timings: 8:00 a.m to 5:00 p.m
Major Attractions: Namgyal Tsemo Gompa, Victory Peak, Chandazik Gompa
Distance From City: 2 Km
Transportation Option: Cab, taxi, bike rental
The Leh Palace was constructed by the rulers of the Namgyal Dynasty and was completed in the 17th century. The palace is a nine-storey building which looks amazing and beautiful amidst the high mountain ranges of the Leh region. The architecture of the palace has been inspired from the Tibetan style and looks intricate and beautiful. But the palace is now in ruins and major efforts are being taken for its restoration.
4. Chang la Pass
What's Special: Natural Beauty, Pangong Lake
Nearby Attractions: Pangong Lake, Tso Moriri Lake, Hanle
Timings: 24 hours
Major Attractions: Changla Baba Temple, Hemis Gompa, Pangong Lake, Changthang Plateau
Distance From City: 74 Km
Transportation Option: Cab, taxi, bike rental
Chang La is one of the most picturesque and third highest motorable mountain passes in the entire world. The difficulty level and also the beauty of the pass is unmatched. For all the adventure lovers, this is the place that they should definitely come to for some thrilling and adventurous journey. The views from here are just spectacular and mind-boggling. Great driving skills are required to cross the pass due to a large number of streams flowing on the road and extremely high temperatures.
5. Kargil
What's Special: History, Architecture, Food
Nearby Attractions: Dras War Memorial, Hunderman village, Phuktal Monastery
Timings: 24 hours
Major Attractions: Mulbekh Monastery, Suru Basin, Lamayuru Monastery, Drass War Memorial
Distance From City: 216 Km
Transportation Option: Bus, Cab, bike/car rental
Many of us know Kargil as the war place of the famous Kargil War but Kargil is beyond the history in terms of natural beauty and a number of experience it offers to its tourists. From shopping to food and from sightseeing to the warm hospitality given by the local people, everything about Kargil is blissful. The influence of both Tibetan and Islamic culture can be seen here in the architecture as well as food.
6. Zojila Pass
What's Special: Adventure, Views
Nearby Attractions: Kargil, Kargil Drass Memorial Srinagar
Timings: 24 hours
Major Attractions: Sonmarg, Thajiwas glacier, zero point
Distance From City: 316 Km
Transportation Option: Bus, cab, bike/car rental
The pass connects Ladakh with Kashmir and is one of the most beautiful passes in the region. Zojila Pass offers stunning views of the scenery around and that is why most people come here to capture these amazing views and also to ride on this road for some thrill and adventure.
7. Khardung La Pass
What's Special: Views, Photography, Adventure
Nearby Attractions: Nubra Valley, Leh Palace, Rancho School
Timings: 24 hours
Major Attractions: Shanti Stupa, Leh Palace, Sankar Gompa, Namgyal Tsemo Gompa
Distance From City: 40 Km
Transportation Option: Private car, bike/car rental
Khardung La Pass is considered the highest motorable pass in the world as per Guiness Book of World Records. The pass offers astonishing views of the valleys and the mountain ranges around. Khardung La Pass is also one of the most dangerous passes in the world, hence a proper driving skills and physical health is required to visit the pass. It also serves as the link between India and Siachen glacier for the supply of goods and services.
8. Pangong Lake
What's Special: Views, Photography, Adventure
Nearby Attractions: Nubra Valley, Tso Moriri, Chang La
Timings: 24 hours
Major Attractions: Khardung La Pass, Spangmik Village, Thiksey Monastery, Hemis Monastery
Distance From City: 223 Km
Transportation Option: Bike rental, cab, private taxi
The stunning views of the different shades of mountains in the backdrop and crystal clear waters of Pangong Lake not only makes it a tourist attraction but also a famous spot for film and song shootings. And what's eccentric about this lake is that it changes color from shades of green, blue to grey. You will get unlimited Instagram-worthy photos at this spot.
9. Drass War Memorial
What's Special: Gallery, Location
Nearby Attractions: Shanti Stupa, Magnetic Hill, Kargil
Timings: 9:00 a.m to 8:30 p.m
Major Attractions: Ningoor Masjid, Mushko Valley
Distance From City: 53 Km
Transportation Option: Cab, bus, bike rental
Drass War Memorial is a great place to show your homage to the brave martyrs who keep us protected. The memorial has been built in honor of those who died during the war while saving the country and also guarding the borders. Inside the memorial, the gallery represents various photos of the war time and also those who got martyred.
10. Zanskar Valley
What's Special: Breathtaking views, snow-capped mountains, serene and pleasant climate
Nearby Attractions: Leh, Magnetic Hill, Srinagar
Timings: 24 hours
Major Attractions: Nimu, Drang Drung Glacier, Phuktal Monastery, Zangla, Zongkhul, Stongdey Monastery, panikhar
Distance From City: 464 Km
Transportation Option: Taxi, Bike rental, Bus
Zanskar Valley is located in the eastern part of Ladakh and is known for its breathtaking natural beauty. It is one of the most magical and enchanting places to visit in Ladakh. The valley is famous for its snow-capped mountains and lush green surroundings. The valley is home to a serene and tranquil atmosphere, one can visit it and rejuvenate and revive in such a peaceful environment.


Best Ladakh Trip from Top Cities of India
Witness the picturesque landscapes, clear skies and smooth paved roads, check our best Ladakh trip packages from top cities of India: Ladakh Packages from Delhi, Ladakh Packages from Mumbai, Ladakh Packages from Bangalore, Ladakh Packages from Hyderabad, Ladakh Packages from Chennai, Ladakh Packages from Ahmedabad, Ladakh Packages from Kolkata.


Which Season To Pick For A Perfect Ladakh Trip?
When planning your Ladakh trip, considering the timing is crucial to making the most of your experience. Therefore, before booking Leh Ladakh tour packages, it's important to understand the weather in Leh and Ladakh during different seasons. This knowledge will help you fully enjoy your visit to this remarkable region and make the most of your Ladakh packages.
April to Mid-May
In April, the place starts to receive tourists from all over India as well as the world. Marking as the beginning of the tourist season, restaurants, hotels and guest houses start to welcome travelers. They also offer heavy discounts so as to attract more customers to their abode. Moreover, many agents might give best deals on Ladakh travel packages at this period. By late April, the Pangong Tso and Tso Moriri Lakes start to melt, uncovering the turquoise color and beguiling views. However, Both Chang La and Khardung La passes remain covered with snow owing to which they are inaccessible during these months.
Mid-May to July
The Srinagar-Leh highway opens up during this time, thereby giving route to the road travelers. Moreover, in early June, one can travel from Rohtang Pass too. However, due to rapid melting of snow, the roads remain wet and slippery but the sides are covered with snow and this path gives once in a lifetime views to the travelers.
August to Mid-September
During the monsoon season, the rivers are full of fresh water and the weather is cold. However, it is risky to travel at this time due to landslides and slippery roads. But the Zoji La Pass and Barachala Pass are rain shadow areas which receive less rainfall, thereby making Ladakh accessible.
Mid-September to Mid-October
The whole place is imbued with beautiful colors at this point of time. During this time, the levels of water recede too and the weather is dry with occasional snowfall bringing a bit of chill. Additionally, the roads are in better condition after maintenance due to rainfall. Another fantastic advantage while travelling at this time is that you get to witness the Ladakh Festival.
Mid-October to Mid-November
By this time, the place is completely in sub-zero temperatures all the locations above 14,000 ft. The tourists tend to leave the place by this time and restaurants get closed, thereby abandoning the place till winters.
Mid-November to March
During the winter season, Ladakh gets cut-off from the rest of the parts of India. Nonetheless, roads through Nubra Valley and Pangong Tso are kept open in winters also. The temperature dips further with each passing day. Some tourists come for the famous Chadar trek in February and March.


Ways To Reach Leh-Ladakh
The geographical location of Ladakh makes it an ideal destination for anyone who is looking for an adventurous trip. The way towards Ladakh is scenic as the mountains are bestowed with snow along with turquoise blue waters and frozen lakes. There are various ways to reach this beautiful destination according to your own convenience.
By Air
One of the easiest ways to is by air. Yes! The nearest airport is located in Leh, that is, Kushok Bakula Rimpochee Airport. This airport is well-connected with almost all the states in India. Moreover, there are daily flights available from Delhi. As it is a military terminal, checking over there is a bit strict and according to the regulations. Hence, it is advised to keep handy all your documents required while checking. You can book a taxi for covering the destination left which will be easily accessible outside the airport. Do not forget to do your flight bookings according to the Ladakh tourism packages that you will be booking with your agent.
By Bike
Many tourists and travel enthusiasts plan a bike trip to Ladakh to enjoy the serene beauty of the place and make the most of Ladakh tour. It is considered as one of the world Moreover, KhardungLa is the highest motorable road of the world, therefore, bikers go on long expeditions to this place. Journey to this mountain pass is as beautiful as it is challenging. Therefore, it is suggested that you keep yourself equipped with all the necessary arrangements. On availing Ladakh cheap packages, You can cover the distance via two routes:
Leh-Srinagar Highway: The total distance from Srinagar to Leh is 434 kms. This route gives you some spellbinding views of the mountains while covering Sonmarg, Kargil, Mulbek, Zozi La, Drass, Saspol and Lamayaru. Moreover, if you wish to take your Ladakh trip plan to another level, a road trip through Leh-Srinagar Highway is always the best way to reach Ladakh. The reason being the highway treats you with awe-gasping vistas of diverse landscape of Kargil and various mountain passes.
Leh-Manali Highway: Covering around 490 kms, this route lets you through different passes like Rohtang, Kokshar, Darcha, Gramphu, Baralacha La, Lachulung La, Tanglang La, Gata Loops, Gya and Karu. Leh-Manali Highway leads a challenging journey due to many high altitude road routes and hairpin bends. However, it is also equally beautiful.
It is important to choose the right bike to cover the uneven path without any mishappenings. Therefore, tourists generally opt for Royal Enfield, Bajaj Avenger, Hero Impulse and other heavy-duty bikes. The cost and documents vary for different providers. , therefore, it is always recommended that you ask for quotations of Ladakh trip packages with price.
By Jeep
If you are traveling in groups with family or friends and if you love road trips, then this your option. You can go there by car, jeep or hire a taxi. Moreover, traveling by road is way more cheaper than traveling by air but it is time consuming. You can reach Ladakh via Srinagar, Manali and Chandigarh, depending upon your location in India. However, the highways are closed during the winter season due to heavy snowfall. The road trip takes you through the passes like Zoji La Pass and Tanglang La Pass.
By Bus
Bus rides to Ladakh are usually bumpy due to uneven roads at some points. There are two routes which lead to Ladakh, one from Manali via Rohtang Pass (opens from June to September) and another from Srinagar via Zoji La Pass (opens from June to October). Interested peeps can book a bus ticket from Delhi as direct bus services begin from there.
By Train
The closest railway station to Ladakh is Jammu Tawi which is 700 kms away from Ladakh. The station is well-connected with Mumbai, Delhi and Kolkata. Other railway stations are Chandigarh and Pathankot, however, they are quite far from the destination and thus are advised not to opt for.
You can enjoy outdoor thrills in Nubra Valley, swimming and camping at Pangong Lake, and click selfies at Khardung La Pass on Ladakh holidays. Make your getaway to Ladakh special by availing the best itineraries by DiscoverMyTravel. Go through our list of all-inclusive Ladakh vacation packages mentioned below and enjoy a hassle-free trip to Leh Ladakh.
3 Ladakh Tour Packages
Best Ladakh Tour Packages
| Ladakh Tour Packages | Duration | Price* | Inclusions | Details |
| --- | --- | --- | --- | --- |
| Khardongla Pass Pangong Lake Sham Valley Leh Tour | 4 Nights / 5 Days | ₹0/- | Meal, Transfer, Flights, Sightseeing, Hotels | View Details |
| 06 NIGHTS / 07 DAYS LADAKH TOUR | 6 Nights / 7 Days | ₹31000/- | Meal, Transfer, Flights, Sightseeing, Hotels | View Details |
| 05 NIGHTS / 06 DAYS LADAKH TOUR | 5 Nights / 6 Days | ₹24840/- | Meal, Transfer, Flights, Sightseeing, Hotels | View Details |
3 tour packages
in Ladakh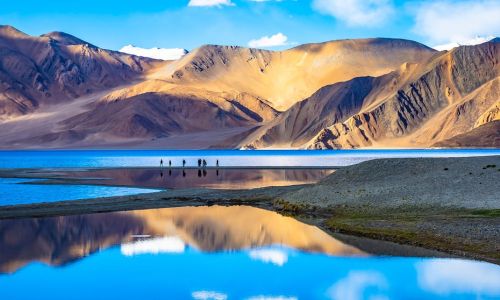 Khardongla Pass Pangong Lake Sham Valley Leh Tour Leh (04 Nights)
5 Days & 4 Nights
Starting From
0
/-
Per Person on twin sharing
Hotel included in package: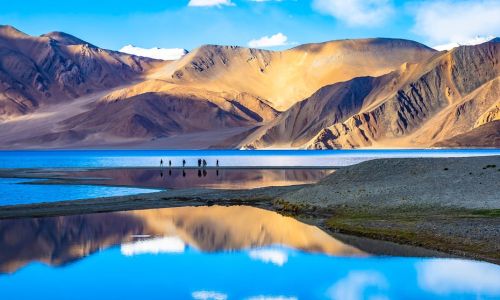 06 NIGHTS / 07 DAYS LADAKH TOUR 2 Night Leh | 2 Night Nubra|1 Night Pangong|1 Night Leh
7 Days & 6 Nights
Starting From
31000
/-
Per Person on twin sharing
Hotel included in package: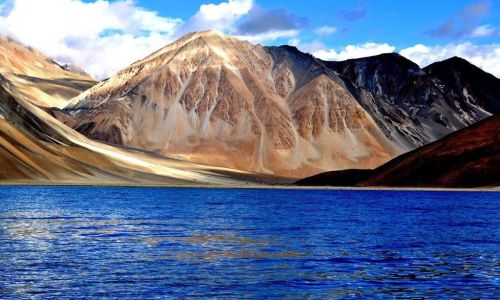 05 NIGHTS / 06 DAYS LADAKH TOUR Leh - 4 nights Nubra 1N
6 Days & 5 Nights
Starting From
24840
/-
Per Person on twin sharing
Hotel included in package: