About Puducherry
Pondicherry Holiday Packages
Pondicherry tour packages for a mesmerizing trip to Pondi, the French city of India. Pondicherry is commonly referred to as Puducherry or Pondi by the localities.
The city of Pondi was once a French Colony, the traits of which are still prominent in the city. The former French Colony comes with a classic show of architectural feat, various churches and different types of museums. Furthermore, the beaches here are the perfect way to relax in the evenings.
10 Best Places to Explore in Pondicherry Tour Package
From beaches to ashrams, Pondicherry presents with an endless list of places that one can visit on a vacation. Therefore, mentioned below is a list of places that one can plan to visit.
1. Promenade Beach
What's Special: Scenic Beauty
Nearby Attractions: French Colony, Sri Aurobindo Ashram
Entry Fees: Free
Distance From City Center: 400 m
Transportation Options: Two-wheeler
Watch the waves crashing over a rocky beach when you get to visit the surreal Promenade Beach. It is locals and touirts's favourite place to spend leisure time. One can spot many people indulging in beachside sports and practicing yoga. One of the best reasons why tourists often flock at this beach is because it is within close proximity to many attractions.
2. Auroville
What's Special: Community where people from all origins live in peace
Nearby Attractions: Promenade Beach, French Town, Matrimandir
Entry Fees: Free
Timings: 9 AM to 5 PM
Built By: Mirra Alfassa (known as "the Mother")
Built In: 1968
Distance From City Center: 12 km
Transportation Options: Bus, two-wheeler, cab
If you like the idea of visiting a place that is untouched by the worldly vices, then Auroville is a must add to your itinerary. Located at a distance of just 11 km from Pondicherry, the city of dawn has for you a dreamlike cityscape.
3. Sri Aurobindo Ashram
What's Special: Spiritual Community
Nearby Attractions: Arulmigu Manakula Temple, Promenade Beach
Entry Fees: Free
Timings: 8 AM to 12 PM and 2 PM to 6 PM
Built By: Sri Aurobindo
Built In: 1926
Distance From City Center: 1.3 km
Transportation Options: Two-wheeler, auto
Sri Aurobindo Ashram is a top tourist attraction when it comes to visiting Pondicherry. This places has restored the teachings of Sri Aurobindo Gosh and surrounds around his many spiritual learnings. This spiritual center is a must visit place for any type of traveler.
4. Paradise Beach
What's Special: Scenic Beauty
Nearby Attractions: Varadaraja Perumal Temple, Ma Pondy Cherie, Arulmigu Manakula Vinayagar Temple
Entry Fees: INR 150
Timings: 9 AM to 5 PM
Distance From City Center: 12.8 km
Transportation Options: Boathouse
Paradise beach is one of the most beautiful beaches in Pondicherry. This hidden gem is not known by a lot of people. One needs to get on a ferry/boathouse and sail for 10 to 15 minutes to finally get deboarded in this island. Paradise Beach stands true to its name and is absolutely spectacular. One can spend hours here but since the water is choppy with strong current, it is advised that one does not go deep. There are a few shacks that have opened up on the beach from where people can purchase a few knick-knacks. While on the way to the beach in the boathouse, you will be taken amidst the backwaters with gorgeous thick mangroves. If you are a bird lover, then you can spot various kinds of birds here.
5. French Colony
What's Special: Beautiful french houses
Nearby Attractions: Promenade Beach, Sri Aurobindo Ashram
Entry Fees: Free
Distance From City Center: 2 km
Transportation Options: Vespa, cycle, auto
Pondicherry is one of the most famous places in Pondicherry. It is actually because of this small colony why Pondicherry sees a whole lot of tourists every year. Pondicherry is also known as the French town thanks to the many beautiful houses and colorful streets. When get see the preserved history of the time when french ruled in India. Their history, legacy and food have been well-preserved here. Get lost amidst the colorful lanes of Pondicherry and indulge your taste buds in some exotic and authentic French cuisines. One can go on a shopping spree here as some very niche brands and other stores have opened up here along with several cafes and restaurants. There are also many tours that will take you to the most important places in this French colony. Get on your Vespa or simply walk and get mesmerized by the beauty fo this place.
6. Auroville Beach
What's Special: Surreal views, beach huts, seafood
Timings: Open 24/7
Major Attractions: Mahatma Gandhi Statue, Promenade Beach, Rock Beach
Distance From City: 9.5 km
Transportation Options: Bus, cab, auto
Auroville beach is one of the most popular beaches in Pondicherry which ironically receives a less crowd than the rest. Situated near Bommayapalayam on East Coast Road is a tranquil area featuring spectacular views especially during the time of sunrise. There are beach huts and resorts that provide accommodation and food. Include this beach in your itinerary of Pondicherry tour packages and enjoy the soothing aura of this beach.
7. Serenity Beach
What's Special: Serenity Beach Bazaar, sunbathing, swimming, kayaking, surfing, canoeing
Timings: Open 24/7
Major Attractions: Auroville Beach, Sri Aurobindo Ashram, Promenade Beach
Distance From City: 7 km
Transportation Options: Bus, cab, auto
Environed by palm trees and blue waters, graced by white sands this is a picturesque place for travellers. A clean, calm, and less crowded, Serenity beach is a wonderful tourist destination close to East Coast Road. The beach offers multiple adventure activities like boating, canoeing, kayaking, and surfing. For all the thrilling activities it features make this an ideal place in Pondicherry for sunbathing, swimming, or simply relaxing. If you are visiting the beach on the weekends then stop by at the Serenity Beach Bazaar to shop for some handicrafts, garments, and leather goods.
8. Varadaraja Perumal Temple
What's Special: Mirror room, oldest temple, Dravidian architecture
Timings: 6 am - 12 pm, 4 pm - 9 pm
Major Attractions: Pondicherry Museum, Promenade Beach
Distance From City: 2.5 km
Transportation Options: Bus, cab, auto private vehicles
Dedicated to Lord Vishnu, Varadaraja Perumal Temple is famed for its Dravidian architecture, sculptured towers, front gopurams, and overall aesthetics. Situated on the M.G Road, this religious place is believed to be one of the oldest temples in Pondicherry that dates back to 970 AD. There is a mirror room inside the temple, along with that it houses assorted avatars of Lord Vishnu, idols of Lord Rama, Goddess Sita, lord Lakshmana, Lord Hanuman, Lord Navaneetha Krishna, Sri Santhanagopala, and Sri Venugopala.
9. Botanical Garden
What's Special: Japanese rock, aquarium, marine life, toy train, flower beds
Timings: 10 am - 6 pm
Major Attractions: Pondicherry Museum, Promenade Beach, The Sacred Heart Basilica
Distance From City: 1.5 km
Transportation Options: Bus, cab, auto
Spread with pruned trees, flower beds, and fountains the Botanical Garden covers an area of 22 acres in the city's centre, the garden is a famous retreat for natives as well as tourists. After 1960, the garden became a hub of horticultural development in Pondicherry. Inside one can explore 28 plots and each one has its own separate theme. The other attractions of the tourist place include a Children's toy train, an aquarium, a Japanese rock, and a musical fountain.
10. Pondicherry Museum
What's Special: Artefacts, glass paintings, remains from different periods
Timings: 10 am - 5 pm, closed on Mondays and National Holidays
Major Attractions: Promenade Beach, Rock Beach, The Sacred Heart Basilica
Distance From City: 3 km
Transportation Options: Bus, cab, auto
Pondicherry Museum features an exclusive collection of sculptures, remains of archaeological findings from the Arikamedu Roman settlement, a wide collection of snail shells, and glass paintings in its remarkable gallery. The gallery houses artefacts that go back to the period of Cholas, Karaikal, and Pallavas. Remains include French furniture, terracotta figures, crockery, guns, mirrors, burial urns, and several things from different periods. In addition to the historic collection, this place is also popular for its breathtaking views. While crafting your Pondicherry itinerary add this place to your Pondicherry tour package.
Best Pondicherry Tour Packages From Tops Cities Of India
Famous as the 'French Capital of India', Pondicherry is without a doubt one of the vibrant places situated on the southeastern coast of India. Brimming with French headquarters, archaic temples, churches, pristine beaches there is so much to tour in Pondicherry. With our Pondicherry tour packages, you can plan the best trips to Pondicherry to various destinations.
The Pondicherry tourism packages are diligently crafted to make your journey easy, accessible and wholesome. Following is our list of packages from various Indian cities: Puducherry Packages from Delhi, Puducherry Packages from Mumbai, Puducherry Packages from Bangalore, Puducherry Packages from Hyderabad, Puducherry Packages from Chennai, Puducherry Packages from Ahmedabad, Puducherry Packages from Kolkata.
What is the Best Time to Visit Pondicherry?
Pondicherry tour plans are mostly made in the month of October. This is because the temperature in this month is between 15 degree to 30 degree Celsius which is the best and most friendly temperature that this city can offer. So plan your pondicherry trip itinerary during October. It is the best time of the year to visit this city and enjoy to the fullest without any discomforts.
With a beautiful cityscape, the city does not shy away from offering you some of the best things to see and memorise. With a number of forts, complexes, and museums to visit, there is just so much to do in this city! that can be explored through Pondicherry travel packages . Now well-known as Puducherry, this Union Territory is a place filled with wonder and amazement located in the Southern end of India. From the spiritual space of Sri Aurobindo Ashram to the scenic spot of Promenade Beach, it is home to many such tourist places. Find your way around the city and enjoy the changing colors of Pondi with the help of our Pondicherry trip package .
How to Reach Pondicherry?
Pondicherry is one of the most preferred holiday destinations for all those looking for a peaceful vacay. Serene beaches, colourful streets best describes this wonderful destination. Pondicherry is well-connected by major Indian cities by different modes of transportation like air, bus and rail. The Chennai airport is the nearest airport while Villupuram railway station is the nearest rail head to Pondicherry. Let's look at the different travel options in detail -
By Air
Chennai International Airport is the nearest airport from Pondicherry located at a distance of about 150 kms. It is well-linked with all the major Indian cities like New Delhi, Mumbai, Kolkata, Bangalore as well as international destinations.Once you reach the airport, there are many taxis available which you can hire to reach Pondicherry.
By Rail
Located just 37 kms away, Villupuram Junction railway station is well-linked to places like Chennai and Madurai. Travelers can hire taxis or avail bus services to reach Pondicherry once they reach the railway station.
By Road
Road is the most cost-effective and the best medium to reach Pondicherry because of the well-maintained road. There are a number of buses plying from nearby cities at regular intervals. On the other hand, you can also hire a taxi or self drive from nearby cities to reach Pondicherry.
1 Puducherry Tour Packages
Best Puducherry Tour Packages
| Puducherry Tour Packages | Duration | Price* | Inclusions | Details |
| --- | --- | --- | --- | --- |
| Pondicherry 2 Nights 3 days package | 2 Nights / 3 Days | ₹20000/- | Meal, Transfer, Flights, Sightseeing, Hotels | View Details |
1 tour packages
in Puducherry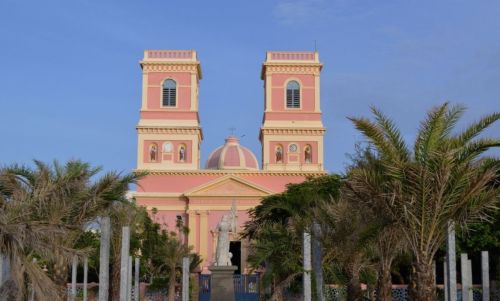 Pondicherry 2 Nights 3 days package 2 Night Pondicherry
3 Days & 2 Nights
Starting From
20000
/-
Per Person on twin sharing
Hotel included in package:

Meal

Transfer

Flights
Sightseeing

Hotels